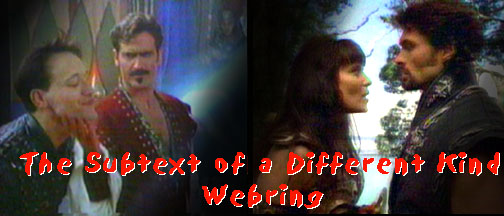 So what is this Ring all about, anyway?
This Ring was created to link together fans of the TV series "Xena" who are intrigued by and interested in exploring "alternative" relationships between the show's characters--and I'm not talking about Xena and Gabrielle here! ;-) No, trust me, I have absolutely NOTHING against the wonderful romantic subtext between these two characters and the many websites devoted to it. But what about those of us who also enjoy looking for less "obvious" romantic possibilities between the characters?

Think there's a little extra passion beneath the surface between Gabrielle and...Ares? Or Ares and Xena?

Do you think that Callisto's love/hate relationship with Xena sometimes got a bit hot and heavy?

Ever consider the possibility that the King of Thieves needs a man like Joxer or Iolaus to steal his heart?

If any oddball thoughts along these lines have ever crossed your mind, and worked their way onto one of your websites, then this webring may be for you! We're looking for any sites that explore or celebrate these types of "alternative" relationships. Whether or not the characters in question actually shared much screen-time together or not, if you like to picture them together, then read on, and see if your site meets the requirements I have in mind:


---
---
Requirements for joining this Ring:
This Ring is fairly open about the type of sites I'd like to include, however, there are certain content and format guidelines as outlined below:


Your site must include SOME significant content related to exploring, discussing, or looking for subtext or "alternative" romantic relationships between characters on the series "Xena". Crossovers to include characters from "Hercules" are allowed, so long as one of the characters has appeared on or is a recurring regular on "Xena". Multi-media fan-fiction sites are welcome as long as at least 2 or 3 of the stories on your site are related to the theme of this webring.


Your site's content can include any combination of the following: fan-fiction (from G to NC-17 rated), images (screen caps to original artwork), articles, links, what-have-you. If your site includes adult content, please make sure the explicit stuff is NOT on the front page of your site and that there are sufficient content warnings on your front page. While I am more than happy to include material of all kinds in this Ring, I want to ensure web surfers are sufficiently warned about anything they may encounter in the Ring.


Slash (that is, m/m or f/f) themed sites are perfectly welcomed in this Ring, as well as heterosexual, bisexual, or whatever-sexual your preferred "subtext" includes.


You're perfectly welcome NOT to personally like certain types of subtext (be it homosexual or heterosexual). HOWEVER, please, no "bashing" of other people's subtexts of choice, sexual preferences, or favorite characters. I'm looking for sites that are positive in nature, not sites that feel the need to include long diatribes on why homosexuality is evil, or why Joxer is not good enough for a gal like Gabrielle, etc.


Sure, you can have SOME Xena/Gabrielle content on your page. But if that's the main focus of your site, there are no doubt other webrings more suited towards including your site.


Clear enough? If you have any questions about whether your site would fit in the Ring or not, please feel free to email me with your questions at sockii@aol.com. You can also view the list of other sites in the ring here.


---
---
OK, so now what?
Decided you'd like to join after all? Great! Here's what you have to do. First, fill out the form below and send it my way:



Once I've received your form and had a chance to check out your site (and I see that you've added the necessary code to your page as described below), your site will be added to the Ring if it meets the requirements outlined above.

You will need to download a pair of images from the choices below to use in the webring code for your homepage. Chose one "Home" image and one "Next Site" image to your liking. Don't like any of my images? You're welcome to come up with your own--I will gladly include your "custom" images on this site for others to use as well if you like.

Make sure, whichever pair you chose, that you rename them "dshome.jpg" and "dsnext.jpg" in your home directory so they will load up properly in the webring code used on your site.

Next, you will need to go here and cut and paste the passage of .html code found there and add it to your site. Before you can use this code, you'll need to make a few changes. Open the code in the text editor of your choice. Then make the following changes in the code section:

Replace YOUR_URL_HERE with the URL of your website (begins with 'http://') NOTE: this is in several different places, be sure to get them all!

Replace SITE_OWNER_EMAIL with your email address (ie: me@mymail.com)

Replace YOUR_NAME_HERE with your name!

Replace SITE_ID_HERE with the site id number you were given during the sign up process. NOTE: there are several spots where this appears. You may want to do a 'search and replace' on this one.

Then copy the code section into your web page. Most people put these things at the bottom of the page, but it's entirely up to you. Just make sure to put it on the same page as the url address you submitted to join the ring.

That's it. In a few days your site will be active. I will send you an email when your site has successfully been added to the ring. If you don't hear from me in a reasonable period of time, please feel free to drop me a note at sockii@aol.com to check on the status of your request.
Thanks for your interest in the Ring!
People have checked out this site.